Aluminum Forging
Product categories of Aluminum Forging, we are specialized manufacturers from China, Aluminum Forging, Aluminum Forging Parts For Customization suppliers/factory, wholesale high-quality products of Cnc Aluminum Forging R & D and manufacturing, we have the perfect after-sales service and technical support. Look forward to your cooperation!
China Aluminum Forging Suppliers
Forging can produce a piece that is stronger than an equivalent cast or machined part. As the metal is shaped during the forging process, its internal grain deforms to follow the general shape of the part. As a result, the grain is continuous throughout the part, giving rise to a piece with improved strength characteristics. Additionally, forgings can target a lower total cost when compared to a casting or fabrication. When you consider all the costs that are involved in a product`s lifecycle from procurement to lead time to rework, then factor in the costs of scrap, downtime and further quality issues, the long-term benefits of forgings can outweigh the short-term cost-savings that castings or fabrications might offer.
Forging
| | |
| --- | --- |
| | MAIN PARTICULARS |
| Material for product | Aluminum |
| Standard | ASTM, ASME, DIN, JIS, ISO, BS, API, EN |
| Certificate | ISO9001, BV |
| Processing | Forging + blasting + Machining |
| Finishing surface | Machined surface with tectyl891, anodize, polishing, nickel plating, zinc plating and chrome plating, oxidation, powder coating, painting, etc. |
| Inspection | material, construction, dimension, heat treatment, hardness, NDT |
| Quality | ISO9001, BV,control production |
The photos of our Aluminum Forging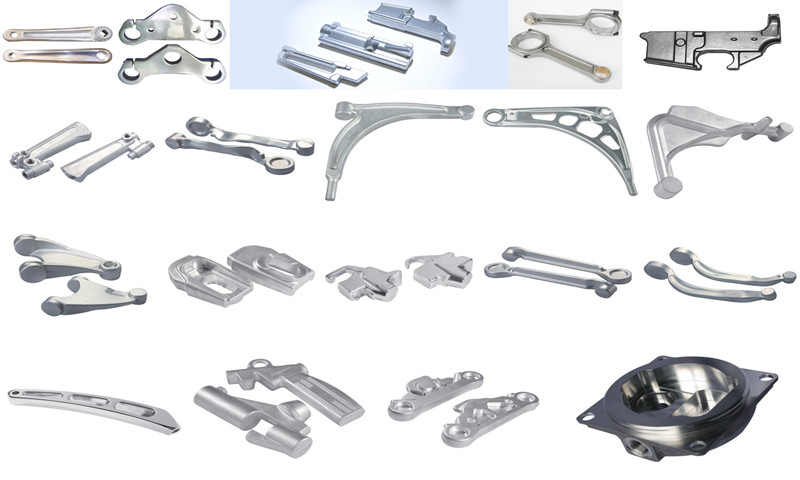 Forging of aluminium
Aluminium forging is performed at a temperature range between 350 and 550 °C
Forging temperatures above 550 °C are too close to the solidus temperature of the alloys and lead in conjunction with varying effective strains to unfavorable workpiece surfaces and potentially to a partial melting as well as fold formation.
Forging temperatures below 350 °C reduce formability by increasing the yield stress, which can lead to unfilled dies, cracking at the workpiece surface and increased die forces
Due to the narrow temperature range and high thermal conductivity, aluminium forging can only be realized in a particular process window. To provide good forming conditions a homogeneous temperature distribution in the entire workpiece is necessary. Therefore, the control of the tool temperature has a major influence to the process. For example, by optimizing the preform geometries the local effective strains can be influenced to reduce local overheating for a more homogeneous temperature distribution
Application of aluminium forged parts
High-strength aluminium alloys have the tensile strength of medium strong steel alloys while providing significant weight advantages. Therefore, aluminium forged parts are mainly used in aerospace, automotive industry and many other fields of engineering especially in those fields, where highest safety standards against failure by abuse, by shock or vibratory stresses are needed. Such parts are for example chassis parts, steering components and brake parts. Commonly used alloys are AlSi1MgMn (EN AW-6082) and AlZnMgCu1,5 (EN AW-7075). About 80% of all aluminium forged parts are made of AlSi1MgMn. The high-strength alloy AlZnMgCu1,5 is mainly used for aerospace applications