CNC Machining Parts
Product categories of CNC Machining Parts, we are specialized manufacturers from China, Cnc Machining Parts, Cnc Machining Oem Parts suppliers/factory, wholesale high-quality products of Cnc Machined Products R & D and manufacturing, we have the perfect after-sales service and technical support. Look forward to your cooperation!
China CNC Machining Parts Suppliers
In modern CNC systems, end-to-end component design is highly automated using computer-aided design (CAD) and computer-aided manufacturing (CAM) programs. The programs produce a computer file that is interpreted to extract the commands needed to operate a particular machine by use of a post processor, and then loaded into the CNC machines for production. Since any particular component might require the use of a number of different tools – drills, saws, etc. – modern machines often combine multiple tools into a single "cell". In other installations, a number of different machines are used with an external controller and human or robotic operators that move the component from machine to machine. In either case, the series of steps needed to produce any part is highly automated and produces a part that closely matches the original CAD design
Computer Numeric Control (CNC) is the automation of machine tools that are operated by precisely programmed commands encoded on a storage medium (computer command module, usually located on the device, see picture right-->) as opposed to controlled manually by hand wheels or levers, or mechanically automated by cams alone. Most NC today is computer (or computerized) numerical control (CNC), in which computers play an integral part of the control.
The photos of our related CNC Machining Parts: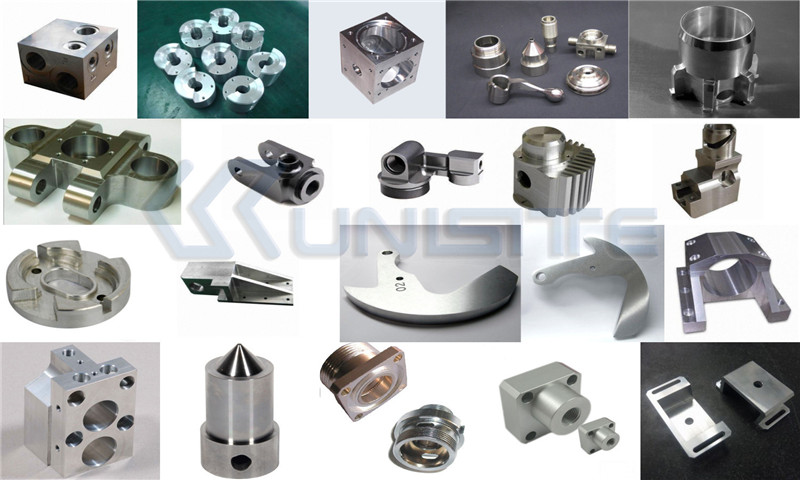 | | |
| --- | --- |
| | MAIN PARTICULARS |
| Material | Aluminum, Stainless steel, Carbon steel, Alloy steel, Brass, Casting iron, Bronze, Powder metal, Plastic |
| Standard | ASTM, ASME, DIN, JIS, ISO, BS, API, EN |
| Certificate | ISO9001, BV |
| Processing | CNC turning, CNC turning and milling compound processing, 3/4/5 axis Cnc Milling |
| Finishing surface | Machined surface with tectyl891, anodize, polishing, nickel plating, zinc plating and chrome plating, oxidation, powder coating, painting, etc. |
| Inspection | material, construction, dimension, heat treatment, hardness, NDT |
| Quality | ISO9001, BV, control production |
CNC-like systems are now used for any process that can be described as a series of movements and operations. These include laser cutting, welding, friction stir welding, ultrasonic welding, flame and plasma cutting, bending, spinning, hole-punching, pinning, gluing, fabric cutting, sewing, tape and fiber placement, routing, picking and placing, and sawing.
CNC Machining is the metals to make use of CNC machine tool processing, is refers to the use of nc Machining tools for processing.Index of the CNC control machine tool controlled by nc programming language, usually in the form of G code.Nc machining G code what language told CNC machine tool The cartesian coordinates, and controls the tool feed rate and spindle speed, as well as the tool changer, coolant, etc.Nc machining relative manual processing has great advantages, such as CNC machining to produce parts very precise and repeatability.Nc machining process can produce manual can't complete with complex shape parts.Nc machining technology has been widely adopted, most of the machining with CNC processing ability, the typical machining workshop, the most common way of nc machining with CNC Milling, CNC and CNC EDM wire cutting, EDM wire cutting cut).For nc milling tool is called numerical control Milling Machine or numerical control machining center.To carry on the lathe of numerical control turning processing is called numerical control lathe work center.Can manual programming nc machining G code, but usually machining using CAM (computer-aided manufacturing) software automatically read CAD (computer-aided design) files and generate G code program, control of CNC machine tool.Leading technology of numerical control machine tool brands have Hass, DMG (Deckel Maho Gildemeister), Mazak, Mori Seiki, Fadal and Wasino.